Work with Joanne for Events, Interviewing, Author Talks and Workshops in person or online.
Subscribe for the latest updates about upcoming Events!
Joanne's positive, friendly and chatty nature puts interviewees at ease. Her inquisitive question construction provides informative inciteful conversations for listeners and or event attendees in the writing and book worlds.
Check out Joanne's podcast page for further guest list evaluation and to listen to her interviewing style.
Joanne is available to facilitate panels and interviews at literary festivals and small or large bookish events.
As a member of the Australian Society of Authors, Joanne's rates are based on ASA standard rates for public in person or online conversation and panel appearances but do vary slightly so please feel free to request a quote.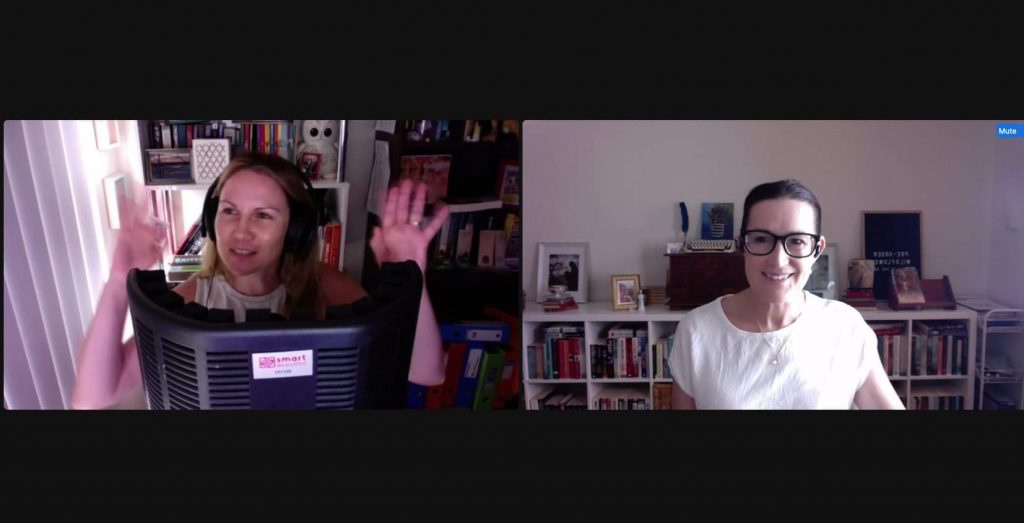 Jo makes chatting about the highs and lows of publishing an absolute pleasure. She's a terrific interviewer - professional, well-prepared and engaging. Her questions are thought-provoking and flexible, leading to interesting and diverse conversations.
With a Diploma in Freelance Journalism, Joanne has been interviewing authors and industry professionals across the globe since 2021, some of which include:
From freelance writing to in-house eLearning writing, to writing in the fiction and non-fiction genres, in whatever description, Joanne has been professionally writing for the last 8 years.
In her author talks, Joanne happily shares her work and words with libraries, schools and any events interested in hiring her to talk about her author adventures. This includes discovering her writing process, publishing productively and getting comfortable promoting books.
With a Certificate in Creative Writing and a Bachelor of Arts majoring in writing, minoring in scriptwriting and editing and publishing, Joanne thrives on sharing her author adventure experiences with undergraduate creatives.
University visit topics range from:
Working in an all-girls girl scout camp in Otis Massachusetts at the age of 21, Joanne lead groups of girls, aged 7-17, changing weekly, for the summer of 2001. During this time, Joanne sang numerous camp songs, ate and toasted s'mores until she was sick, got rained out sailing, settled conflict amongst teens and cared for teeny tiny homesick kids. This experience was one of a kind and gave Joanne the confidence and connection to provide kids out in the wild, away from home, a safe, fun and friendly environment they and she treasured forever.
Due to her camping adventures, and having her own offspring, whether talking to younger or older aged children, Joanne's passion for creativity and energy and inspiration for following your dreams shines in her interactive and engaging author talks for schools, all told with humour and heart.
For younger children ages kindy-year 2
Readings of Joanne's emotionally charged (but funny) picture book stories filled with humour and heart, as well as singing songs. Teachers can expect these sessions to be loud, fun and extremely energetic and interactive.
For middle-aged children years 3-6
Readings of Joanne's junior fiction series 'The Caravan Kid' and a brief exploration of 'writing what you know'. Expect these sessions to be humorous and heartfelt as well as highly engaging and informative.
As a member of the Australian Society of Authors, Joanne's rates are based on the ASA standard rates for public appearances and school visits but do vary slightly so please feel free to request a quote.
I have a valid working with children check and I am double vaccinated against COVID-19.
Joanne has conducted workshops for authors on topics such as social media at the Fellowship of Australian Writers WA (FAWWA) and Joondalup libraries.
In this short sharp session for freelance writing start-ups, learn what are the four essential documents you need in place before you've met with your first client.
These four documents work to:
set your business up for smooth success
make you look professional
provide easy processes for you to run your business
give fast efficiency for working environments
stop miscommunications
cover your ass both legally and professionally
get you paid in a quick and seamless manner
Templates to these 4 documents will be provided and filled out as required within the session.
Whether you're at the beginning, middle, or what you believe to be the end of your author career, because basically due to crippling fears, you've never got started, this workshop is for you; it's an open and safe space to express and write out your author fears. Whether this be from internal or external feelings arising throughout your author adventure, lay bare your deepest darkest worries about making it or breaking it in the authorship worlds, both on the page or aloud.
It is with the intent attendees leave this session feeling relief, reenergised and with some sort of understanding, they are not alone; their author fears are valid. We're all feeling the fear but doing what we love anyway.
And you can too.
Think about it, how a person speaks can say a lot about their character: who they are, where they come from, what they might look or dress like and how they may act.
In this interactive session, attendees are set writing and audio challenges to depict characters and build them up through dialogue.
This session deep dives into:
Stereotypical character dialogue
How the way in which one speaks says so much about self and
Showing feelings through dialogue.
As a member of the Australian Society of Authors, Joanne's rates are based on the ASA standard rates for public appearances and workshopping but do vary slightly so please feel free to request a quote.